Happy Wednesday! Friday is so close I can SMELL IT!
I am a sucker for "Link Ups" can you tell?
Today, I am linking with
Holly
and
Jake
with: Finish the Sentence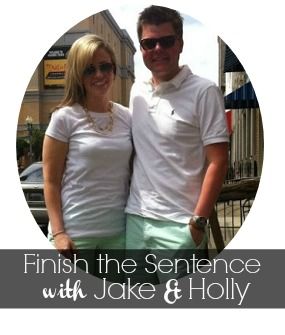 My happy place
... is around the table with friends and a bottle of wine, alone running before the sun is up, in bed with my DVR, long phone conversations with old friends and sitting on the beach.
What
ever happened to
... all the American Idol winners? All that work and nothing to show for it but a Jenny Craig commercial.
So what if I
.... Dropped H off at school yesterday and spent the day shopping and having lunch/day drinking with friends. I didn't have mommy guilt all day.
E! needs a reality show about
... anything as long as the make Giuliana Rancic eat a cheeseburger. That chick is too skinny
My go-to fast food meal is
... McDonald's #2 meal, No pickles, fries, a Dr.Pepper, and 2 Tylenol for the hang over. You better believe I was out shaking my thang if I'm eating McDonald's
You might not know that I...
I got nothing, I tell everyone EVERYTHING!
The hottest quarterback in the NFL is
.... umm…is it sad that I can't name one quarter back in the NFL?! I just can't get into football.
If I could...
convince my husband that I need to be a stay at home mom who occasionally sends her kid to daycare, I would be the happiest little Lassen around!
My personality is awesome because
... I'm sweet with just enough sassy. Kind of like a lemon drop.
Twerking is
.... only ok in the privacy of your home, unless you bust your ass, then that shit needs to be on YOUTUBE.
I think it's super gross when...
When people sneeze and then wipe it on their clothes?! GROSS. Wash your hands.
Someone needs to tell Miley Cyrus.... enjoy it while it last. Before too long she'll make the bad decision to run off and get married because she's knocked up and her twerking days will be over.
Now go link up!!