Today I'm linking up with
Holly
and
Jake
for Finish the Sentence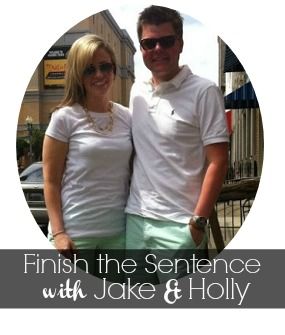 1. My favorite Christmas was.... As a child my favorite Christmas was when my sister and I each got cabbage patch doll, with a stroller and a crib. I was so happy that we didn't have to share. As an adult, they are all great. I mean a day off work to spend with the family, gifts and Pennsylvania Dutch Egg Nog. Does it get any better?
2. The worst Christmas I had...
hmm? Last year wasn't the worst but certainly akward. My MIL passed away 18 days before Christmas. We thought my husband was going to Kim Kardashian cry all Christmas day. We were all on pins and needles. He disappeared in the room for a couple of hours. We were sure he was in there sulking. To our dismay his ass was in there playing online poker and drinking white Russians.
3. That one gift that made me scratch my head and say, "Hmmmm" was... a box of Kleenex. My crazy aunt literally wrapped a box of Kleenex and gave me and my sister each one. AND it wasn't even the good kind. It was that cheap one ply crap.
4. One year I....
hope to spend Christmas in NYC

5. I think the worst gift to give is....those nasty holiday lifesavers. You know what I'm talking about. They come in those cheesy story book containers.

6. At Christmastime I typically.... buy a gift for someone and keep it for myself.

7. Typically, family Christmas....If we are in STL, it's usually a house full of people, kids running around like banshees, men downstairs doing lord knows what, women gathered around the table with bottles and bottles of wine. It's wonderful. IF we are in AR, it's usually just me, mike and H. It's pretty low key. Someone from back home will try to Face Time us which never works when you are 3 bottles deep into the wine.
8. If I could change one thing about the Holiday season....
it would be mandatory to be off the week of Christmas….paid

9. It is so hard to buy for....my husband. He is worse than a girl. Plus if he wants something he goes and gets it.

10. My favorite Christmas tradition is... Christmas Eve night, open stockings, get Christmas jammies, make cookies, then we go look at Christmas lights as a family. We make popcorn and little Christmas treats. It's fun and H always falls asleep