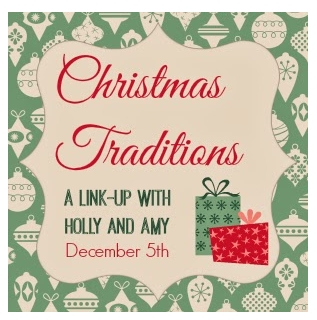 Today I'm linking up with
Holly
and
Amy
and chatting about Christmas traditions.
Warning this is long; I got on the memory train and couldn't get off… chu chu

Christmas has always been deemed as an "important" holiday in our house growing up. Not because of Santa, Santa never came to our house. Not because of the presents or Tree, but because we were celebrating the birth of Jesus Christ. It never fails, every Christmas program at church we'd go to as a family I'd look over at my mom and she would be sobbing with thankfulness. Bless her heart.
Every.Single.Time
. She'd cry at the stable scene. She can be a little dramatic but we love her. One thing I truly love reflecting on Christmas is how much my parents focused on the real meaning of Christmas. I hope M and I do the same for H.
On to the traditions.
The weekend after Thanksgiving, we would go to Ted Drew's (local amazing frozen custard joint) and pick out our Christmas tree. It's funny that we all went as a family to "pick" the tree. I remember my sister being totally over satisfied every year. She'd walk around and pretend to look at trees. When all she wanted to do is get back in the warm car. I laugh to myself thinking about it, Amber would walk up to the first tree she saw and say,
"that's perfect, let's get this one"
My sister. She's a funny one.
We'd pick out our
overpriced
tree; my dad would cuss like a sailor as he'd tie it to the top of the car. My mom would remind him that it's the holiday season blah blah blah.
We'd get home and my dad would put the tree in the stand, which was ALWAYS an ordeal. It would always lean one way and my mom would ALWAYS say "it's not straight David". He would not so kindly snap back "I'm not finished Michelle" We lacked that warm holiday spirit when we put the tree up.
When the tree was finally up, Dad would go smoke a cigarette and open a can of Budweiser while my mom sister and I would decorate the tree. Slowly, my sister and mom would lose interest and disappear. Not me I loved decorating the tree. I'd spend hours decorating this 7ft tree. I wouldn't stop until it was perfect.
Christmas Eve, we never did anything. I was always jealous when I heard people talk about their Christmas Eve plans. We'd spend the day together watching movies, making cookies but never anything exciting.
Christmas morning we'd wake up bright and early run down the stairs to open presents. It's sad to say we I remember doing this all through high school AND maybe college. There is something about Christmas morning that turned my sister and I into 3 yr olds.
We'd always have to wait for my dad to get his coffee. I would sit on one side of the tree and my sister would sit on the other side. My mom would hand us each one gift and we'd open them at the same time. It's hilarious. My mom would wait until the last minute to wrap all of the gifts. So the first gift would always be wrapped really pretty with a bow. Then they would slowly start getting sloppy and the last present you can forget. It usually was hidden in the back with no wrapping paper, maybe a piece of tissue paper that barely covered the present. My mom was no Martha Stewart.
Later in the day, family would come over for Christmas dinner. We have a very small family but you would think the house had 80 people in it. We are so loud. The house was full of laughter and love. (ha, That needs to be on a hallmark card)
M and I are setting new traditions for Hannah. He was big on the Santa growing up. They didn't have Elf on the Shelf, they had "Jingles the Mouse" (which is creepy to me) I however did not have Santa growing up, and was TOTALLY against H believing in Santa. Santa is slowly sneaking into our Christmas. We have the Elf on the Shelf, and H gets excited to find the elf in the morning, but we do not use it as a "You better be nice because Elfena the Elf is watching" AND Santa will not be the one filling the bottom of our tree with gifts. Sorry. He may bring one gift but that is it. I think my dad warped me as a kid. He said he worked hard for the gifts under our tree and there was no way "Santa" would get the credit for it. I get where he is coming from. So we are trying to find a happy medium with Santa and Christmas.
I threw the idea of a real tree right out the door. Fake trees are so easy.
Stocking
: we NEVER had stockings as a kid. GASP I know. I will always remember my friend Jaimie talking about the cool things she got in her stocking for Christmas, I honestly felt jipped and remind my mom each year about it. When M and I got married, the first things I bought was monogramed stocking for everyone and you better believe I fill our stockings ever year.
Christmas Eve
, I always make Mexican and we drink margaritas. After dinner I give everyone Christmas pj. Everyone includes me mike and H and anyone who travels to AR for the holiday. That evening, we load H in the car and go look at Christmas lights. This is probably my favorite. H gets so excited.
Christmas morning
we open gifts, eat a big breakfast, watch Christmas movies and just lounge all day. I usually cook a big dinner and host Christmas for us and any other random friends that don't have family close by. We usually spend the day drinking eggnog and playing games. It's the best.
Oh this post gets me excited for Christmas!
What are you Christmas Traditions? Head on over
HERE
and link up