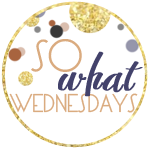 Today I'm saying SO WHAT.....
If I just spent twenty minutes online at Shutter Fly. I can't pass up the FREE CODES. FREE 16x20 until October 17th, use code FB16x20. All you pay is shipping! BOOM. Christmas present for daddy. You're welcome
If M's birthday is Sunday and I haven't planned anything
If I'm using the excuses that H NEEDS to experience the fair. I want to go and people watch and eat fried Oreo's. (Those aren't carbs right?)
If I order Monster Inc on demand instead of taking the time to find the DVD. It was late and the cardinals game was on.
If I went to three different stores to find Halloween Peeps. I was on a mission and they turned out great!
If I'm nervous about the Cardinals game. It's so intense. I can't take it.
If I'm super excited to attend the casual wedding reception this Saturday. M informed me the dress code is jeans. HA! When in roam.
If I almost passed out when I had to get my flu shot today. I can't stand shots.
If I'm obsessed with winning this! Have you entered this
GIVE A WAY
yet? No? Good...Don't cause I need this.
That's all folks! Happy Hump Day!
Head on over and link up!